The Weekday Preschool of Kilbourne Park Baptist Church has been serving families in the community since 1941.  Believing that preschoolers are God's special gift, our mission is to help preschoolers develop and grow in a Christian environment, to minister to the needs of families, to be a Christian witness, and to glorify God in all that we do.  It is our goal to help preschoolers grow spiritually, physically, socially, mentally, and emotionally.  Our objectives are met primarily through the use of the Wee Learn Curriculum, ZooPhonics, Success reading program, hands on math, and daily Bible stories.
Kilbourne Park Baptist Church Preschool is operated under the supervision of the Director, Stephanie Pantoja and the Assistant Director, Kari Morris.
Each classroom is staffed with a lead teacher and an assistant teacher, all of whom are highly qualified and have years of experience in the classroom.  Continuing education requirements are a priority for all staff members as they are committed to personal and professional growth and development.
We offer classes for 6-week old infants through Kindergarten.  Except for infants, children must have reached the appropriate age for their respective classes by September 1st of the year that they enroll.  In cases involving newborns, children must be six weeks old and be up to date on their immunizations before enrollment in the program.  If enrollment takes place after September 1st, parents must reserve a space for the child by paying all applicable tuition and fees.
TUITION RATES FOR 2023-24 SCHOOL YEAR (9:00 am to 12:00 pm):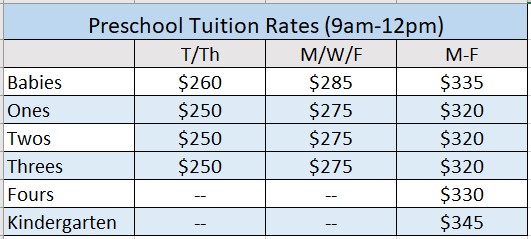 Early Care: Opens at 8:00 am
Extended Care: 12:00 – 3:00 pm
PRESCHOOL & KINDERGARTEN OPERATING HOURS:
All of our preschool classes are from 9 am to 12 pm; Kindergarten operates from 8:30 am to 12 pm.  Our preschool and kindergarten program operates on a school year and we follow Richland School District One for inclement weather.
REGISTRATION FEE:
A yearly registration fee of $180 is due at the time of registration and is nonrefundable.
OPTIONAL ACTIVITIES:
As a service for your child, our extended care program offers extracurricular activities which are available through individual instructors.  We offer soccer shots, art, gymnastics, music, and dance.
If you would like to join our waitlist, please click "join the waitlist" pink button below and fill out the google form.  We will call you when we have an opening for your child!
Please complete a separate from for each child that you are enrolling.
Kilbourne Park Weekday Preschool is registered with the Department of Social Services. We meet all state regulations regarding teacher/child ratio and staff training.
Kilbourne Park Baptist Church Preschool does not discriminate on the basis of race, color, national and ethnic origin in the administration of its educational policies and admissions.